George is out and about and looking lovely! George + Milan Fashion Week = every girls' dream :P Today he attended the Giorgio Armani Spring-Summer 2007 men's fashion collection, which is part of the Milan Men's Fashion Week, in Milan, Italy.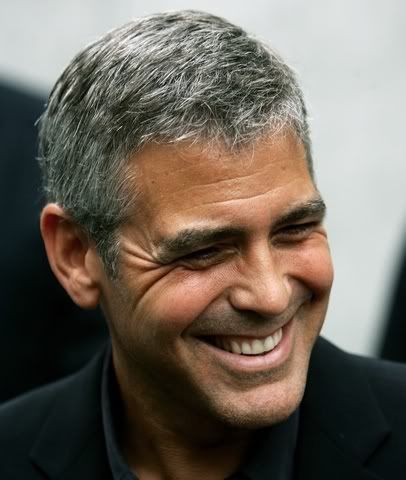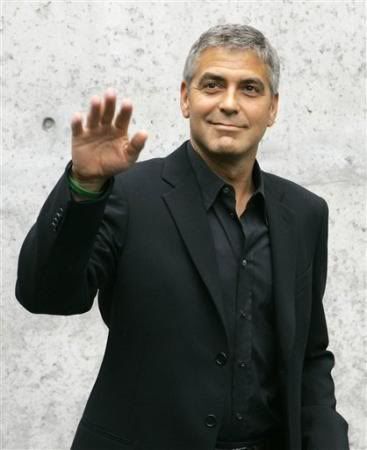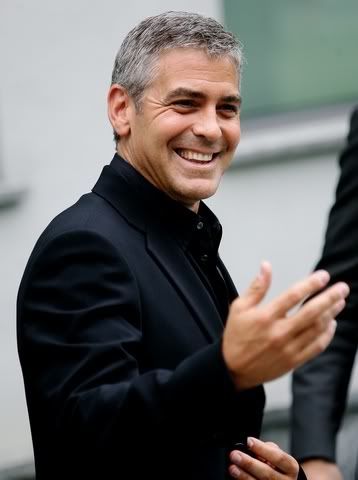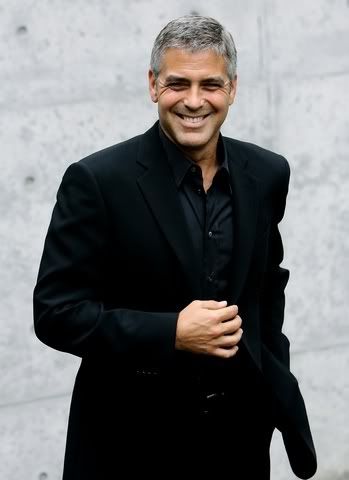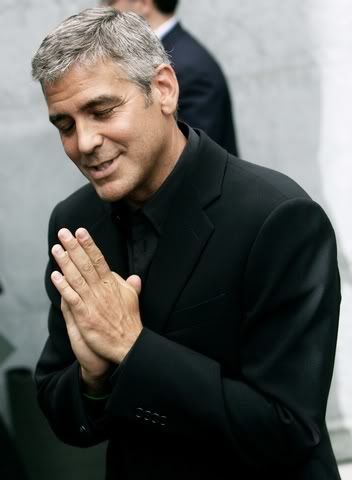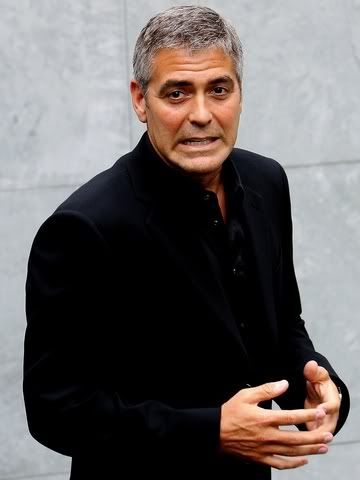 More images are up at ClooneyNetwork and ClooneyStudio. :)

From Yahoo! News: Giorgio Armani gave his younger rivals a lesson in effortless cool on Wednesday, showing shirts and suits so casually sexy actor George Clooney says they could help him cope with aging.

Men wearing broad-shouldered pinstripe suits and dandy shoes strolled down the catwalk in small groups, hands in their pockets or arm-in-arm with chic girls in flowing silk trousers and jauntily tilted Parisian berets.

"It's beautiful. I've only been to one of his shows before, I haven't really been to menswear shows often," Clooney told Reuters after the show, in the middle of Milan fashion week.

"I usually can't wear clothes like that because they are made for men in their 20s, and you've got to understand that when you're aging, suits become more important."

Leaning against a wall, a champagne glass in his hand and wearing a black suit, Clooney, 45, reflected the slightly rakish yet relaxed style that infused the entire show.

It was the only big-name fashion show this week that had the audience breaking out in spontaneous applause as men with sunglasses paraded loose trousers and tailored waistcoats, cardigans that followed the shape of the back without clinging, and urban suits that had grown-up sex appeal.

"Being sexy as a man is not about being muscular. It's the way he looks at you, the way he moves ... his way of dressing," Armani told reporters after the show.

It was a contrast to Dolce & Gabbana's gym heroes with six-packs who marched down the catwalk in boxer shorts and tight briefs on Sunday, and Miuccia Prada's boys in shiny plastic shorts in primary colors.

Armani preferred loose Bermuda shorts and drawstring trousers as a holiday look, or pyjama-ish shirts with Nehru collars.

WHEN A MOVIE HIT - OR BOMB - ISN'T IN THE SCRIPT
From an article about film production: "You start off with a great script, the director screws it up," says George Clooney, who has experienced success and failure on both sides of the camera. "An actor gives a bad performance. The editor screws up. The music sucks. The release date sucks. The ad campaign sucks." It takes a miracle for everything to come together, he says.

REVISTING GEORGE'S BARBARA WALTERS INTERVIEWS
From Fox News: Whenever he sees Barbara Walters, George Clooney mentions how he's still paying for telling her in an interview that he was never going to marry again.

Future Clooney dates will have an opportunity to revisit that talk, and hundreds of other interviews Walters has conducted for ABC News specials over the past three decades, due to a deal announced Monday with Sirius Satellite Radio.

"It is a wonderful way for them to be heard," Walters told The Associated Press. "So many of them are classics. It is everything from Lucille Ball and John Wayne and Bing Crosby and George Burns to Matthew McConaughey and Julia Roberts."

GEORGE'S FAMILY TREE
From an article about celebrity heritage: According to the 1880 American census, the great-great-grandfather of George Clooney, the actor, emigrated from Ireland and became a jeweller.

His son Andrew became mayor of Maysville, Kentucky, and campaigned with the help of George's singing aunts — Rosemary and Betty — who were radio stars.

'SELF CONGRATULATORY' CLOONEY SLAMMED
From PR Inside: Hollywood agent-turned-documentary maker PAT DOLLARD has attacked GEORGE CLOONEY's outspoken anti-war stance.

Dollard - the former agent of regular Clooney colleague STEVEN SODERBERGH is currently making a pro-war documentary about Marines fighting in Iraq.

He was furious when Clooney urged more Democrats to speak out against the war and 'congratulated' himself for doing so.

He tells PageSix.com, "I read something on the Internet in which someone was patting himself on the back for having the courage to oppose the war.

"They actually equate bravery with speaking out against the president because (losing fans) might cost them one less servant at their Italian villa . . . It put me into a black rage and made me sick to my stomach." Dollard, a republican, also attacked the way supporters of the party in the entertainment industry have been ostracised, adding, "Being a Republican in Hollywood today is not much different than being a communist in Hollywood in the 1950s. I'm not trying to overstate the case, but the reality is there is a blacklist in Hollywood. It's very McCarthy-like. It just shows the hypocrisy of the left."

GEORGE MENTION
From Philly.com: Many of us actually prefer a George Clooney-type build over, say, the washboard abs of a swimsuit model. A little bulk feels, well, masculine and comforting. Besides, being with a guy with an extra inch or so of padding, means you don't have to suck in your stomach so much.

GEORGE MENTION #2
From Net Music Countdown: The Modern Drummer article also reveals that (Danny) Carey enjoys playing basketball. So much so, that he joined the NBA Entertainment League, where he plays hoop with other basketball fanatics including George Clooney and Bow Wow.

GIRLS FANTASISE ABOUT GEORGE
From The Sun: The favourite celebrity fantasy lover for women is Ocean's Eleven star George Clooney. Next came footie's David Beckham followed by movie tough nut Ray Winstone.

Which leads nicely on to a column/feature from The Independent newspaper about one columnist's fantasy (Thanks to Chris for this!):

Catherine Townsend Sleeping around

"So, Cat, how often do you masturbate?" Robert asked. "I used to be a twice-a-day guy but since I broke up with my girlfriend a month ago I've lost the urge. Is that normal? "This was a bit weird, since Robert is our local fifty-something handyman and he'd only come by to fix the shower. Still, I understand that by writing a dating column I open myself up to some strange lines of questioning. Just the other night at a party in the West End, a guy I met in passing attempted to discuss the intricacies of his techniques. All I wanted was to grab a crab canapé.

Still, I'm usually fascinated by other people's experiences, and Robert's comment made me realise that while I've been listening with rapt attention to everyone else's fantasies, I've largely neglected my own. I'm not sure if it's down to time constraints or lack of privacy, but my sexual self-exploration lately has largely been confined to two minutes of furtive fumbling under the duvet in the dark. Which is a shame. Masturbation gave me my first ever orgasm, and has helped me discover what turns me on. How can I expect a partner to know what I want if I'm not sure myself?

So my friend Victoria and I dropped into a trendy Hoxton sex boutique. "Your sex toy collection should be like your wardrobe - you always have your classic staples like the Rabbit, but it's good to update things once in a while," she said, before pulling out a vibrator shaped like a small rubber duck. "Look, this one is so cute - and it's waterproof!"

On Saturday night, while my flatmate was out with her parents, I decided to seduce myself. Before he left, Robert had mentioned that I needed to test the water pressure, giving me the perfect excuse to grab the rubber duck and head to the shower, with visions of George Clooney's character in Syriana dancing in my head as the steam started rising.

In my fantasy, George and I were stuck in an elevator with my new crush, Grant, and the extreme heat meant we might have only an hour to live - so we all had to get naked immediately. But, just as George started to unbutton my trousers, my flatmate's mum burst through the door in desperate need of the loo. I screamed, grabbed the shower curtain (ripping it down) and almost fell on top of her, which, needless to say, was a definite mood killer.

I called Grant, who's still in South Africa, to tell him what happened. He laughed, before asking, "Were you thinking of me?" "Of course," I said sweetly. After we hung up, George, Grant, my toys and I went on several more adventures together, discovering spots I never knew existed. It was the perfect excuse to be racy in the name of research.

The next morning, I texted Robert. "Don't worry about being 'normal', just do what feels right for you and give yourself time," I wrote. "By the way, do you install door locks?"

THE CLOONEY FAN SITES

ClooneyNetwork has added clips of George talking about the screenplay for Syriana, being interviewed for Boffo! Tinseltown's Bombs and Blockbusters and on the TV series Hotel, and scans from Entertainment Weekly (circa Three Kings). CN also links to this site, where you can download and watch an hour-long discussion on Good Night, and Good Luck, with George Clooney, Grant Heslov and David Strathairn at NYU in December 2005.

ClooneyStudio has added a clip of George on Celebrity Best Friends and paparazzi pics of George out and about on his motorcycle.