NEW SYRIANA DVD COVER ART WORK
From MoviesOnline: We have just received the revised cover art work for the action-drama thriller which stars Academy Award winner (Best Supporting Actor) George Clooney, Matt Damon, Jeffrey Wright and William Hurt. Warner has confirmed that it will be a single-disc only edition. It will be available in both 2.40:1 Widescreen and 1.33:1 Full Screen editions, along with English Dolby Digital 5.1 Surround Sound audio tracks. Subtitles will also be provided. Extras include a 2 featurettes, deleted scenes and a conversation with George Clooney. The disc will be available to own when it hits store shelves June 20, 2006.

From writer/director Stephen Gaghan, winner of the Best Screenplay Academy Award for Traffic, comes "Syriana", a political thriller that unfolds against the intrigue of the global oil industry. From the players brokering back-room deals in Washington to the men toiling in the oil fields of the Persian Gulf, the film's multiple storylines weave together to illuminate the human consequences of the fierce pursuit of wealth and power.

As a career CIA operative (George Clooney) begins to uncover the disturbing truth about the work he has devoted his life to, an up-and-coming oil broker (Matt Damon) faces an unimaginable family tragedy and finds redemption in his partnership with an idealistic Gulf prince (Alexander Siddig).
A corporate lawyer (Jeffrey Wright) faces a moral dilemma as he finesses the questionable merger of two powerful U.S. oil companies, while across the globe, a disenfranchised Pakistani teenager (Mazhar Munir) falls prey to the recruiting efforts of a charismatic cleric.

Each plays their small part in the vast and complex system that powers the industry, unaware of the explosive impact their lives will have upon the world.

DVD Details:
2.40:1 Widescreen and 1.33:1 Fullscreen
English Dolby Digital 5.1 Surround Sound
English, French and Spanish Subtitles
Deleted Scenes
Make a Change featurette
Make a Difference featurette
Conversation with George Clooney

Revised Artwork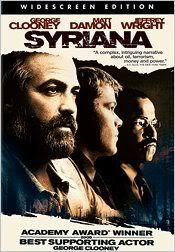 LIE BACK AND THINK OF GEORGE
From Wigan News: NURSES have put posters of Brad Pitt and George Clooney on the ceiling of a hospital examination room to help women relax during gynaecological check-ups!

Staff at Leigh Infirmary hope the film star heart-throbs will help patients' minds wander while medical procedures are carried out.

They can also daydream about football hunk David Beckham and actor Jesse Metcalfe, who plays the gardener in TV's Desperate Housewives.

The posters have been pinned to the ceiling in an examination room on Ward 2, the hospital's gynaecology day surgery and outpatients unit.

A Wrightington, Wigan and Leigh NHS Trust spokesman said: "The posters are in the coloscopy clinic where ladies go for examinations.

"Patients can be lying on their backs for up to 15 minutes while procedures are carried out.
"The posters were suggested by Rachel Lowe, a staff nurse on Ward Two.

"She thought it would be nice to give patients something to look at other than the ceiling tiles.
"She mentioned it to her ward manager, Julie Cook, and with the help of other staff members they have made a collage of pictures.

"There used to be a poster of a polar bear skidding in the snow on the ceiling, but then they asked patients for suggestions and they said they would like to see pictures of men up there."

One woman attending the ward as a day patient said: "The pictures are a great idea.

"They are something pleasant to look at while you're lying there. It's a nice distraction."

The collage also features pictures of idyllic tropical beach scenes, dolphins and puppies.

A photo is here. :)

THE CLOONEY FAN SITES
ClooneyNetwork has added some video clips of George on the 1992 TV show, Bodies of Evidence.

ClooneyStudio has added a video clip of George promoting The Peacemaker on MovieWatch.